Jupi-Lis kennels is a small, familyoriented kennel located in the rural town of Åkersberga – about 30 km from Stockholm, the capital of Sweden. Our family consists of me – Rica, my partner Mikael and our two teenaged children David and Ellen. 
We also have two ragdoll cats – Boris and Ivan and my daughters Connemara pony  Ursa Minor (Teddy).
Our dogs are a part of our family and are first and foremost familymembers and loyal companions and not breeding stock so if one of our dogs doesn't fulfill our high standards for breeding stock they still stay in our family as beloved pets. I also don't keep more dogs than I have time for. This means we breed very seldom and when we do the combinations are always well thought out. So if you are interested in a Jupi-Lis puppy feel free to check our "Puppy from Us" and "Puppies" pages for our breeding philosophy and the next planned litter and don't hesitate to contact us if you have any questions.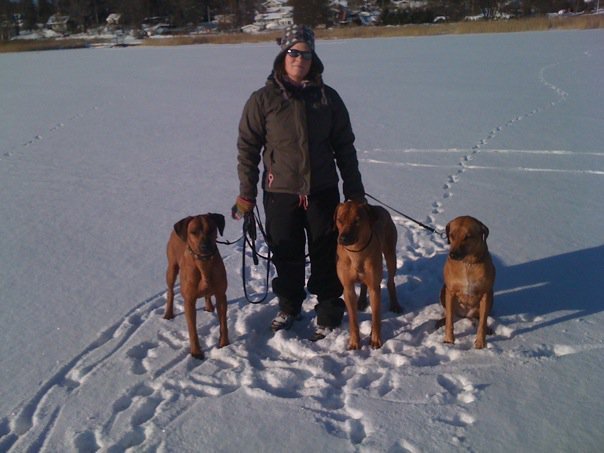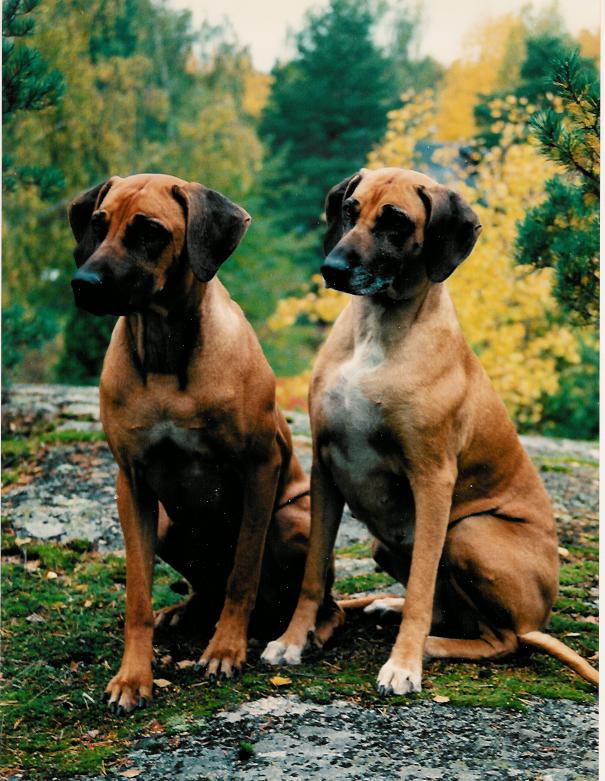 The history of the kennel

Jupi-Lis kennels was established in 1986 and was in the beginning operated by my aunt Pirjo who bred american cocker spaniels. Pirjo unfortunately passed away in 1991 and the kennel was put on hold. In 1996 we (me and my mother) took over the kennel name when we started having plans on breeding Rhodesian ridgebacks.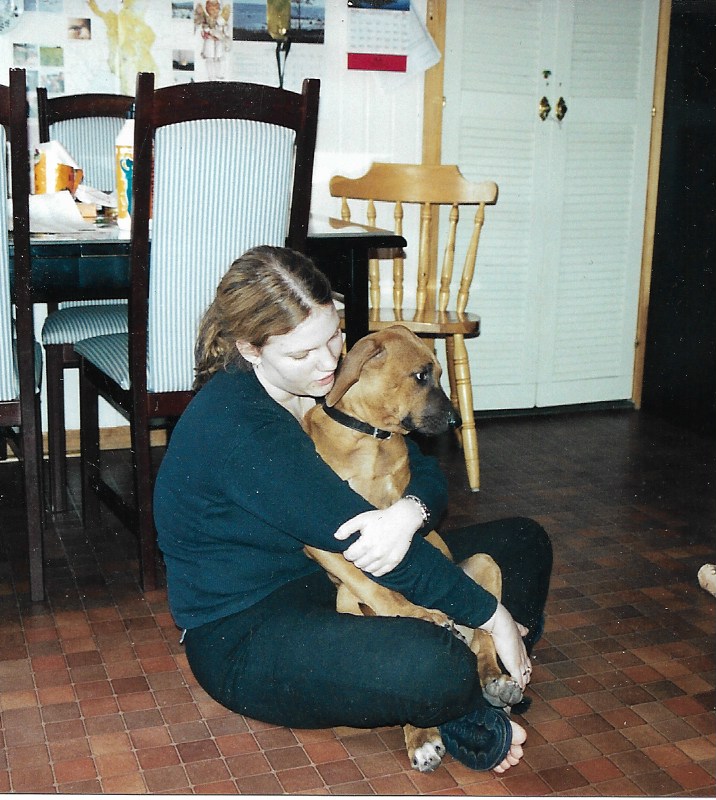 Our first ridgeback – Ridgetime Elin – was born in 1990 in a litter of 8 (3+5). Due to that time ridgebacks were not very common here in Sweden. There were approximately 400 registered individuals. Elin was not the prettiest of ridgebacks but had an outstanding mentality and quite an interesting pedigree with old english and south african lineage. She was a very typical ridgeback temperamentwise.
Elin had her first and only litter in 1996 which produced 5 puppies (1+4). One bitch puppy was unfortunately stillborn. No DS, no ridgeless and no ridge faults. We kept a bitch puppy from that litter – Zoya (Jupi-Lis Zorayah).
Zoya was a pretty girl with excellent mentality. She gained her Finnish and Norwegian championship the same day she turned two years of age (the earliest date to gain a championship title). Zoya had three litters at Jupi-Lis. The first litter in 1998 by the dutch male MultiCh Maxim Dagmar, the second litter in 2000 by SUCH NUCH Haibas Yanko and her last litter in 2003 by SUCH Duméla ra Diamond we Chimanjika.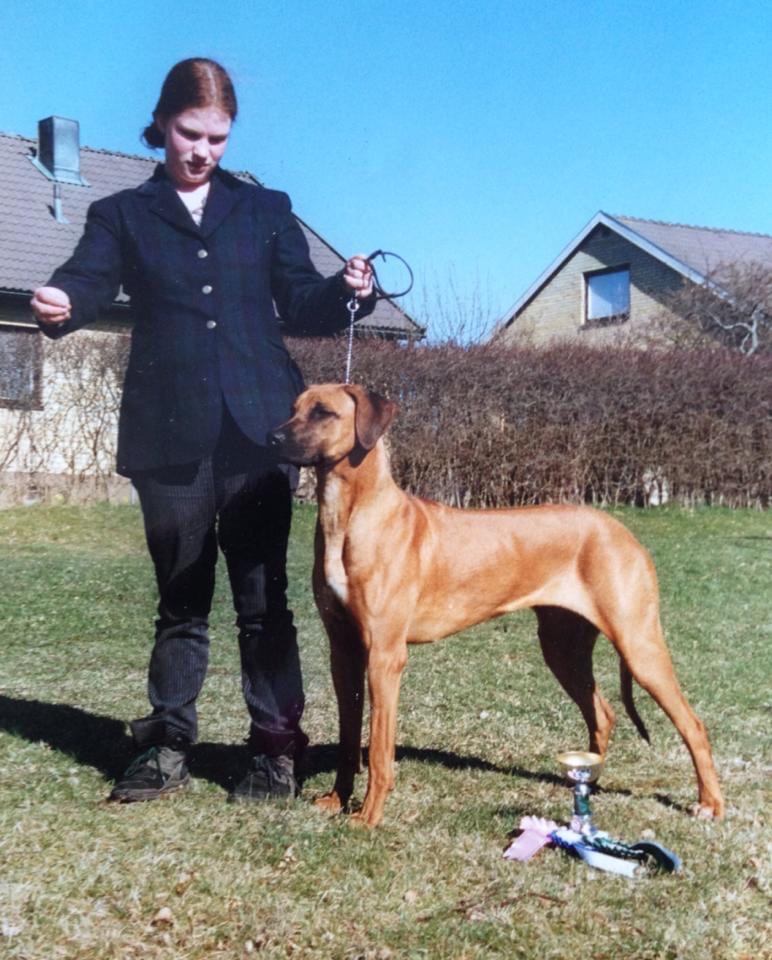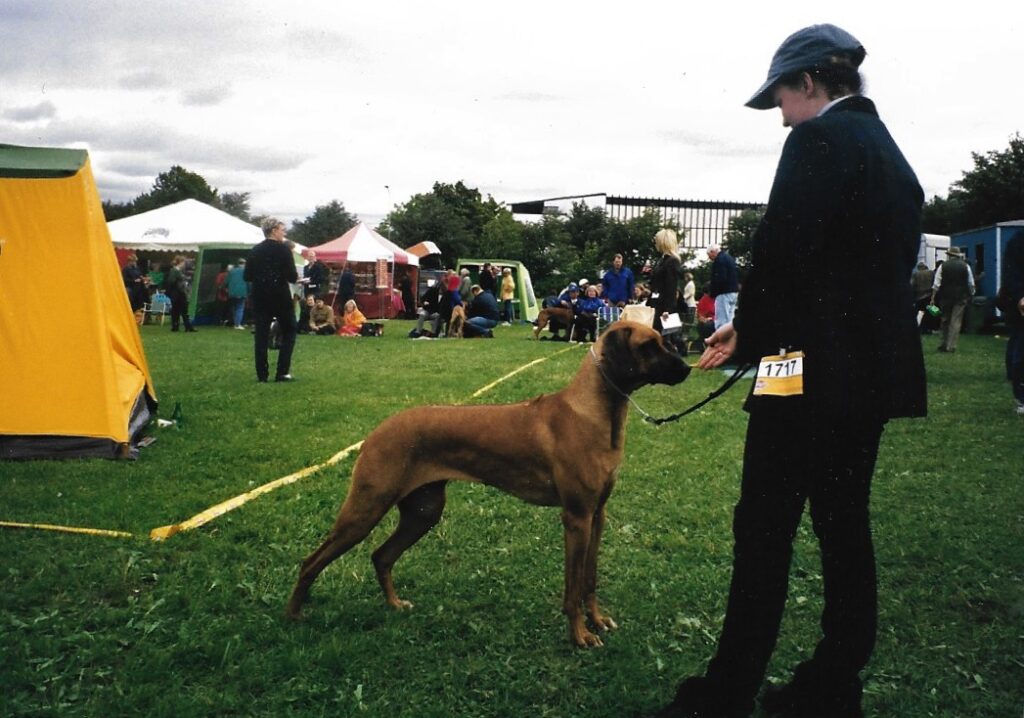 We kept two puppies, one male – Silver – and one female – Teide, from Zoyas second litter and a female from Zoyas last litter. Unfortunately none of them ended up being suitable for breeding and was kept as beloved pets. Teide was living with my parents and Silver with my older brother.
In 2007 I purchased a bitchpuppy from Finland. I fell in love with the sire to that litter – the german male named Rachral Abayomi Hintza –  and could therefor not resist when I found out that he had mated the lovely finnish bitch Parkanäs Manyara who also was closely related to my Zoya. That is how Misti ended up in our pack. Misti was a wonderful dog with the sweetest temperament but was unfortunately X-rayed with ED1 (Elbow dysplasia) and were therefor not suitable for breeding.
In 2009 the pack was once again expanded. This time with the male puppy Fuji who was imported from the breeds country of origin – South Africa.
In between all this life happened with studies, children and career so the doggy business had to take a step back. I still had dogs but did not breed and did not participate much in shows or competitions. The breeding was also kind of lost all these years as I had so much bad luck with my dogs – Teide had allergies, Silver had hip dysplasia, Etna was most likely infertile and Misti had elbow dysplasia. Thus was none of them suitable for breeding and as I am a small kennel where quality goes before quantity I do not keep more dogs than I can handle and my dogs are first and foremost loyal companions and not breeding material. Though, I must admit, it is kind of depressing to have to discard so many dogs in a row and by that time I didn't think i would ever get back to breeding again.
In 2018 Misti died very suddenly. She was old but I thought I could keep her a little while longer. We were all a bit shocked but Fuji most of all as he had never been a lone dog. At the same time as I announced Mistis death I was offered a pup out of Mistis littermate Nalas grand-daughter at kennel Uwanja's in Finland. As the sire was a favourite of mine – Rayridge Jared Boleyd "Boy" – it was an offer I couldn't resist and that is how Hekla came to live with us.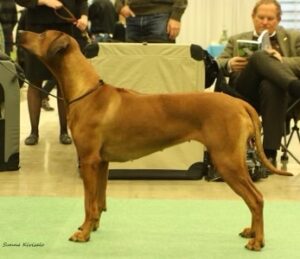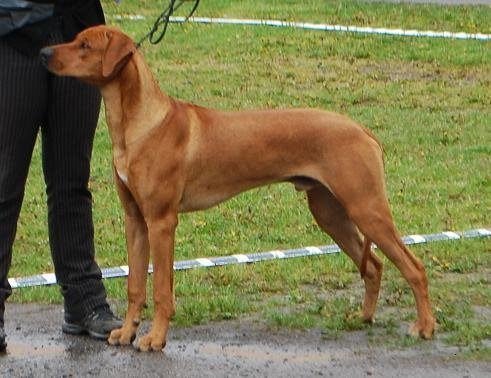 Hekla is a very sweet tempered girl who gets along with everyone – both people and other animals. She is a loyal companion and loves to cuddle up in on the couch and is always with us at the stables and makes friends with both the horses, other dogs and people there.
As Hekla is both nice and healthy we have decided that she would be well suited to carry on the Jupi-Lis legacy and thus also contibute to the breed here in Sweden. She had her first litter in july 2022 by the german male "Sambo" – MultiCh Wakati Mzuri Jazua Aike. The litter looks so far very promising. We kept two puppies at home and one on breeders terms. We also exported three puppies. Because the litter was so nice we plan to breed Hekla again, You can read more on the "Planned litter" page.
// Rica