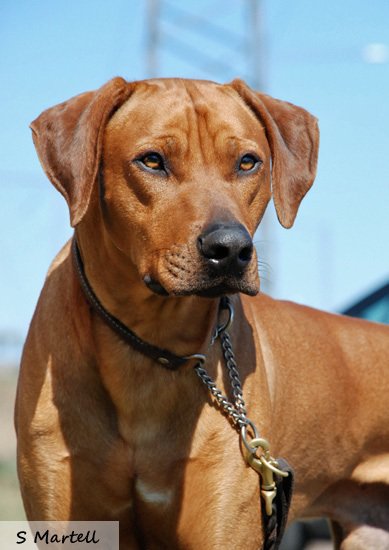 Karoskloof Edel Impi – "Fuji"
Born: August 24, 2008  –  June 4, 2020.
Sire: De Leeuwenjagt Kilimanjaro
Dam: Karoskloof Mack's Zandili
HD: A/A
ED: 0/0
Shown with exc.
Mentality test: MH
Height: 69 cm
Weight 45 kg
Breeder: Arno van Wyk, Karoskloof kennels, South Africa
Owner: Rica Jakovlew, kennel Jupi-Lis
Photo by Susanna Martell
My beloved Fuji. Named after Japans largest and most famous volcano. Once in a lifetime dog. So unique both in character and appearance. Also the latest ridgeback imported from South Africa to Sweden. No other imports since then. Our journey started with me wanting to have a puppy from South Africa, the country of origin for the Rhodesian ridgeback.
I started researching and as I have always been not just crazy and interested in doing outrageous things and like to be a pioneer but also kind of a "pedigree nerd" and know exactly what I want in terms of lines and which dogs I want to avoid in a pedigree I thought that it would be a great idea to import a puppy from the country of origin – South Africa. It seemed quite complicated and also immensely expensive but hey – when I get an idea I try to go through with it if possible. I somehow got in contact with mr. Arno van Wyk of Karoskloof kennels in SA and expressed my interest in a puppy from him. At that time I had fallen in love with his bitch "Zandili" (Karoskloof Mack's Zandili). Arno told me that Zandili was mated and if I wanted I could get a male from that litter. Unfortunately it fell through as I found out that the puppy would have to be quarantined for over 4 months due to be able to come to Sweden. This was something I wasn't prepared to let a puppy go through so I told Arno that I was very sorry but that it wasn't possible. Instead I purchased a puppy from Finland – Misti.
A year later, in the spring of 2008 I was contacted by Arno again. He was to repeat the litter from 2007 and wondered if I was still interested? Of course I was! But how? The regulations in Sweden was the same and I was still not ready to put a puppy in quarantine. Arno asked me why it was so difficult to export to Sweden as he had exported a couple of dogs to Russia and there were no regulations of that severe kind there. So I researched it and he was right. To import to Russia you didn't need almost anything. So my dad, who was of Russian descent came up with an idea. Why not send the puppy to Russia to live with a family friend there for the time it took to vaccinate and do a titertesting on the puppy and then send it to Sweden?
So that is what happened. In august 2008 the litter was born and thereafter Fuji started his journey for his new home in Sweden. First he flew from Port Elizabeth to Johannesburg, from there to Frankfurt where he spent the night and recovered and then further to S:t Petersburg in Russia. After a couple of months he was free to travel to his final destination here in Sweden. The journey was long and very expensive but I got what I wanted – a ridgeback from South Africa. Fuji was worth it all even if I at the time thought that I would never do something like that again. I'm so very thankful to mr. Arno van Wyk of Karoskloof kennels in SA who let me have one of his precious puppies and sent me heaps of pictures when I was waiting for my puppy to be able to travel.
Fuji was a lovely, happy go lucky dog and so very handsome. I had such big plans for him. We were to go to shows all around Europe and advertise him. I started showing him as a puppy and he was BOB in all of his puppy outings. When he became a youngster he got a bit lanky so I just showed him a couple of times and then thought I would let him mature a bit before we'd hit the showrings again. Unfortunately he got anaplasmosis (a tick disease) when he was about 1,5 years old and it went undetected for quite a while. We started seeing changes in him and one day he got very sick with high fever so we went to the ER where we found out about the illness. He had to have antibiotics for a long time and even if he recovered the illness unfortunately left some cognitive problems which made him a bit insecure and also a bit confused and irrational at times. It also somehow seemed to have impacted his sight as he started having difficulties seeing in the dark and that of course confused him a bit. After a while I tried to introduce him to the show ring and game tracking scene again. Unfortunately he wasn't at all comfortable with that so I decided that he didn't have to endure those things anymore. He lived happily and comfortably as our beloved pet until he had to be euthanized due to severe lung cancer in june 2020 at the age of almost 12 years.
Rest in peace my beloved boy. We will love you and miss you forever.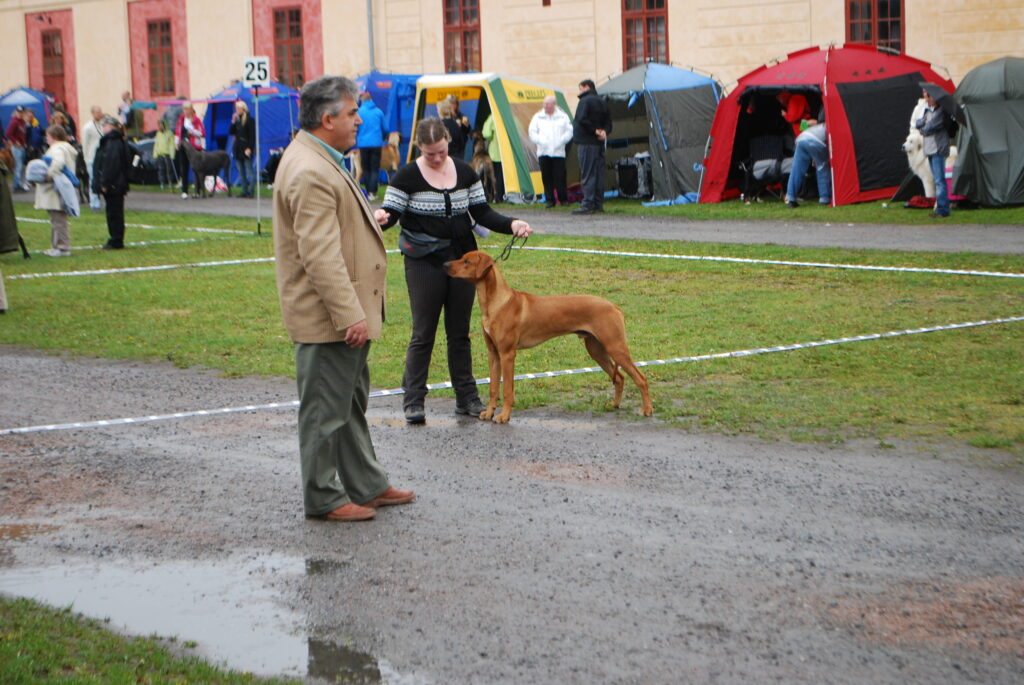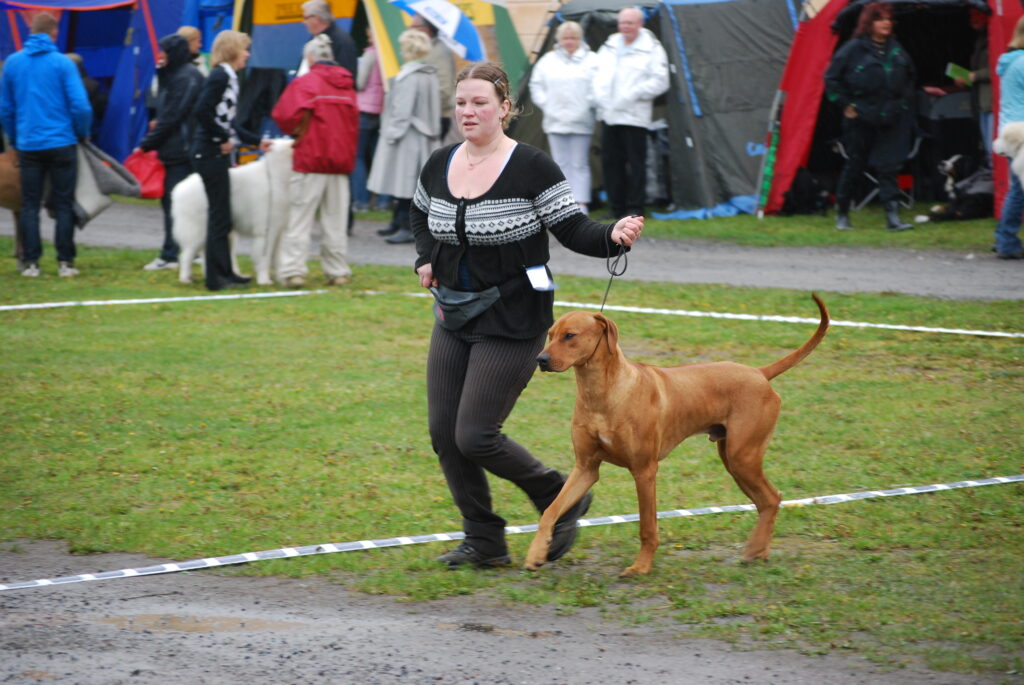 9 months old, going BOB-puppy at Österbybruk int. in 2009.
–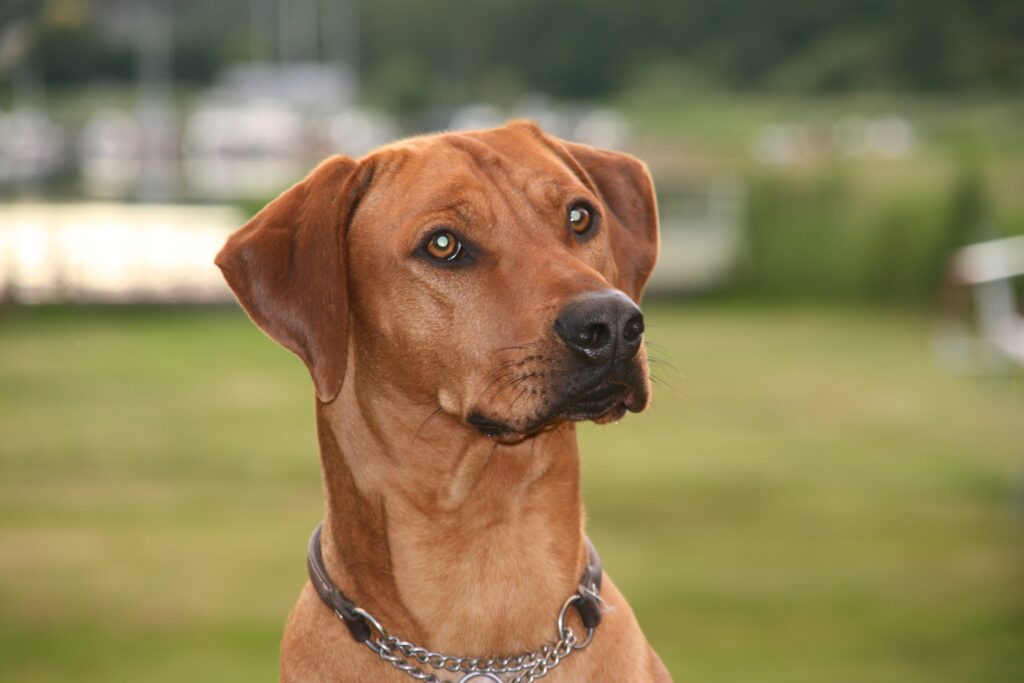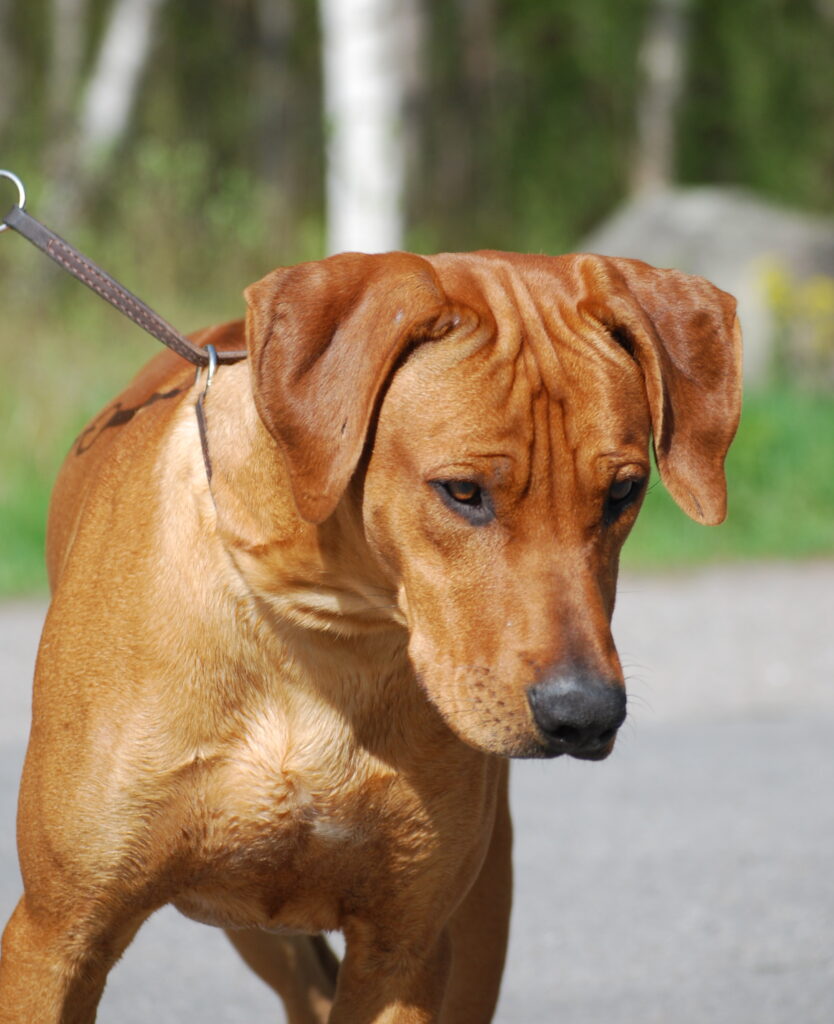 5-6 Months old.
Photos by S. Martell.
5,5 & 8 weeks old.
Photos by Anke van Wyk.